Interesting that it isn't just Mastodon that seems to be in sudden growth mode. The Mastodon questions relating to 'how to get started' and 'who to follow' are just as applicable to Podcasts - even though they are much more established. That said, it is clear that even for the long time listener, checking in and making sure that once you have found the best stuff to listen (often by asking around) that you have the best stuff to listen to it on!
This post then is my contribution to answering;
🔸 What is the best app?
🔸 Which podcasts should I follow and why?
Caveat - I am an Apple ecosystem person - so my podcast player recommendations MIGHT not be available on your platform of choice. Sorry.
Which Player
As an Apple user, you might expect me to use the Apple player and you would be wrong. Every now and then I do revisit Apple's core apps to make sure I have a good reason to be outside of their ecosystem. I last checked the Apple podcast world 3 months ago. NOPE.
Not to say it isn't a good app - its just that it doesn't work for me and this is primarily because I follow to a LOT of podcasts and listen to very few of them. As a result, I need an easy mechanism to find, categorize, triage, organize and listen.
There are few apps that I haven't downloaded, most don't work for me (or more accurately, they don't offer enough to make me want to switch). They might work for you - all good, this isn'y the kind of piece to get into that debate.
This is what I use and why it specifically works for me.
I have used Castro for a long time. It really is a wonderful app and I would not knock it. Castro and Marco Arment's Overcast are the two podcast apps that I kept coming back to when I looked outside of Apple. When I first explored podcast apps beyond Apple, I tried them both. Castro won out. I just couldn't get my head around the way Overcast worked. Castro in comparison was very intuitive. Why relearn when what you have works?
And then 3 months ago that all changed. As I referenced above, I do explore app alternatives from time. Changes had been made to the Apple app - so i explored and hadn't realized that Overcast had itself been through a massive redesign.
Oh my.
The Apple changes were good - but nothing that helped me. BUT Overcast won out and I have been using it ever since. This is why.
I subscribe to over 100 podcasts (don't judge me) and generally listen to a podcast for somewhere between 30 and 90 minutes each day. It does get over 90 minutes from time to time - mainly depending on what else is going on in my life. Clearly there is lot that I follow and don't listen to. So as I wrote above when looking at a podcast app, find, categorize, triage, organize and listen are all important functions.
My Process
Every single podcast I follow is categorized into one or more place … 'tech', 'politics', 'bbc and npr', 'humour', 'music' … you get the picture.

As part of my morning 'feed catchup' i triage all the new arrivals and delete anything I know I won't be even thinking about listening to.

When I am ready to listen - the category filter helps me do an initial narrow down and then I choose from within.
Resultant Benefits for me. (Your mileage may vary)
🔸 Very intuitive
🔸 Fast and efficient triage
🔸 Synching across multiple devices
🔸 Their app even works on the Mac
🔸 The Ability to categorize to quickly choose 'the tone'.
The Unique Controls in Settings I won't go into - suffice to say, the possible refinements of what you MIGHT choose to do is extraordinary - but were I to tell you that I have not changed one setting - you would know that this app is very much in synch with how I think.
Through all of this you will notice I have made no mention of speeding up / slowing down podcasts (which is possible in most players) - because I don't do it, even with the sheer number of shows I triage. I was tempted once, tried it, didn't like, never bothered again. To me, it is similar to reading a book's cliff notes and assuming you have read the book.
What I Listen To
At any given moment I might have up to 40 unplayed podcasts in the queue. (Right now I am at 21, I know because I just counted. In fact - well - here they are.)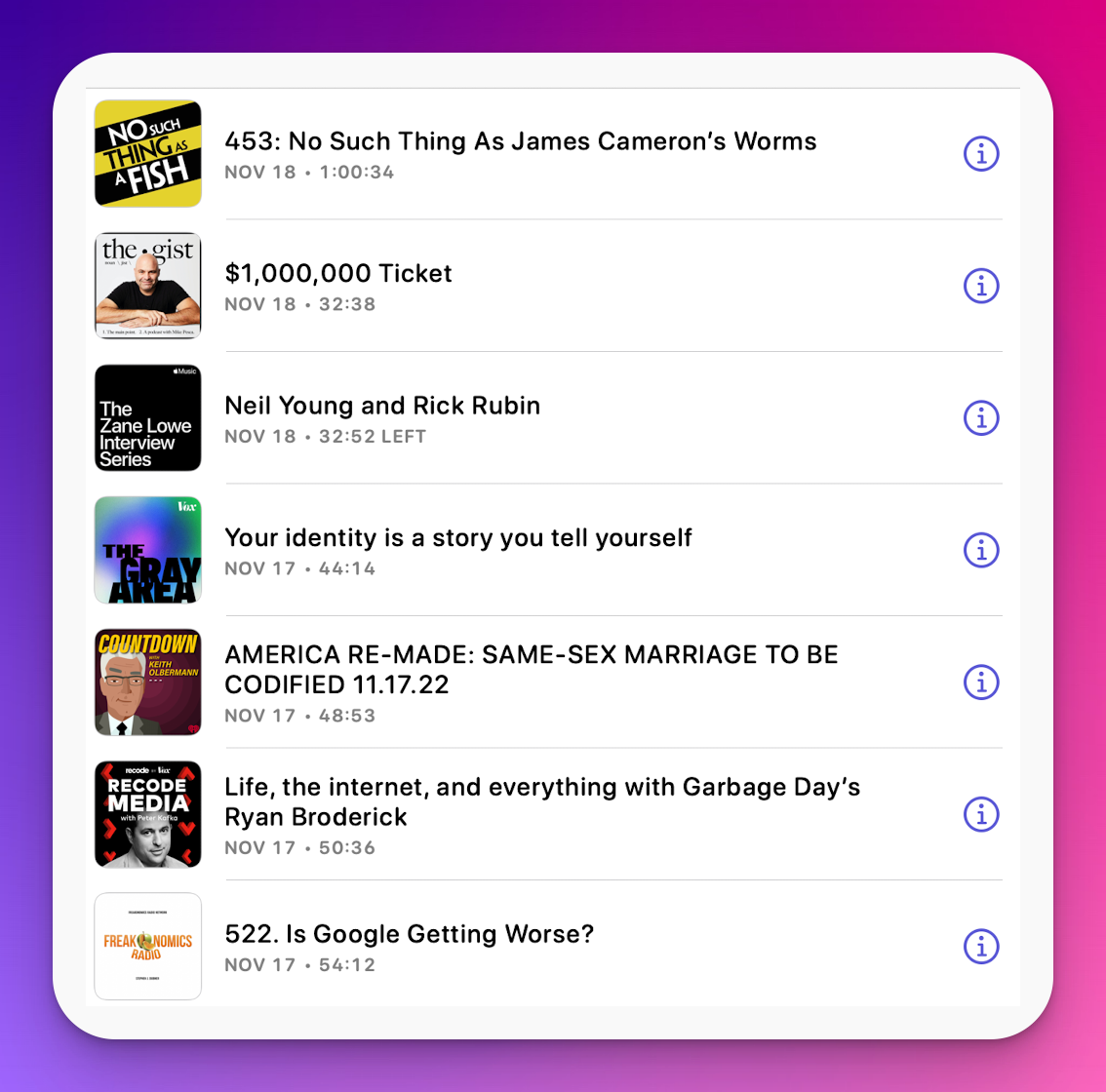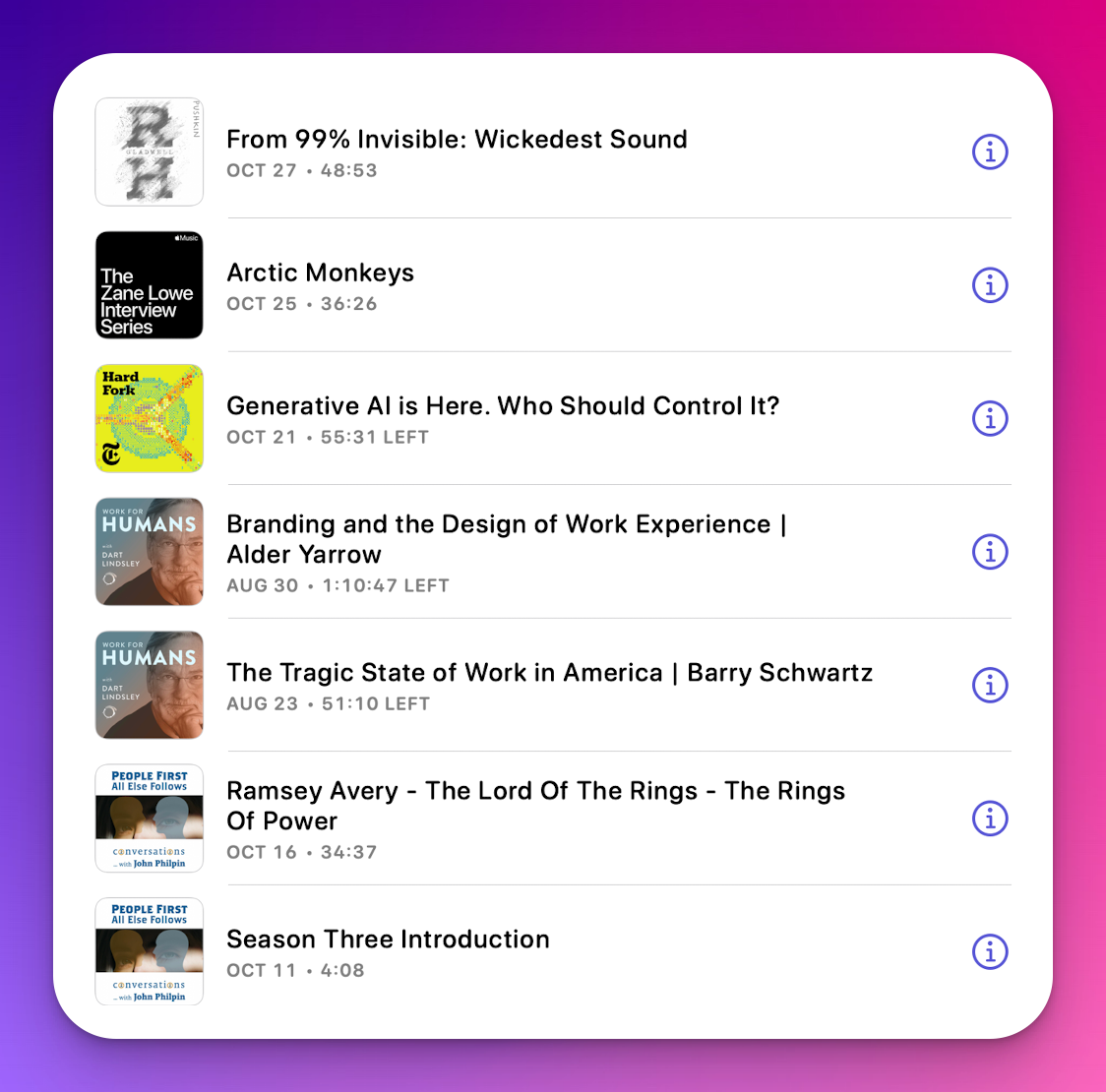 Some shows I simply have the latest version of ready to go if I feel inpired … No Such Thing, The Gist, John Hodgman being good examples.
Other shows, like Zane Lowe and Rockentours might have multiple episodes - because I really want to hear the guest. Example below - note that Zane Lowe has two shows in the hopper, Chris Lockhead has THREE. But - will I really get round to listening nearly 5 hours of Lockhead - just across these three shows - probably not, so over time they wil get removed without listening.
And finally - you will see that two of my twenty one shows are my own podcasts. Yes I do listen to them once they are published and I keep the latest Season in the Inbox for easy discovery if I need a link for someone. Season Three just kicked off - so only two shows so far.
Recommendations
So what shows would I specifically recommend? Well again - the point is what are you interested in? If I knew that, I could be of more help, so I reduced the list to a solid personal 10 - which are in no particular order, but if I know what kind of stuff you like - I probably have a view - with the exception of Sports!
🔸 Chris Lockhead and Category Pirates - marketing and business
🔸 Rob Long - 15 minutes of delight
🔸 Peter Kafka - media meets technology
🔸 Rockenteurs - a music podcast rom Gary Kemp and Guy Pratt
🔸 Zane Lowe - music
🔸 Sam Harris - for quiet relfection
🔸 John Hodgman - he's just funny
🔸 Ezra Klein - considered thought, good guests
🔸 Mike Pesca - The Gist - a daily 'news' show from an ex PBS presenter
🔸 People First - my own People First podcast
That's it - do you have any recommendations and thoughts?