If you don't live in New Zealand, you might not know the name Bernard Hickey. Hell - I live here - and didn't know him until I stumbled over his writing in Substack. But when I speak to 'locals in the know' - he is definitely known.
We had some elections in New Zealand recently, and one winner was a gentleman called Wayne Brown - he is the new mayor of Auckland. At the time he was received positively. Overall still is as far as I can tell. Businessman moves into politics to 'get things done' wasn't his tag line - but probably because it was too long! At this stage, I couldn't honestly tell you whether I am for him or against him - I am just not that well versed in local politics, but it is fascinating to read something like this to get a deep down drill into what might(?) be going on. Bernard is definitely not pulling his punches. (I do get the impression that he doesn't usually!).
---
---
TL;DR … Wayne wants to sell Auckland city's stake in the airport … Bernard is asking why he doesn't sell off some of the gold courses - it might just have the same short term effect - and seems to have a better long term outcome.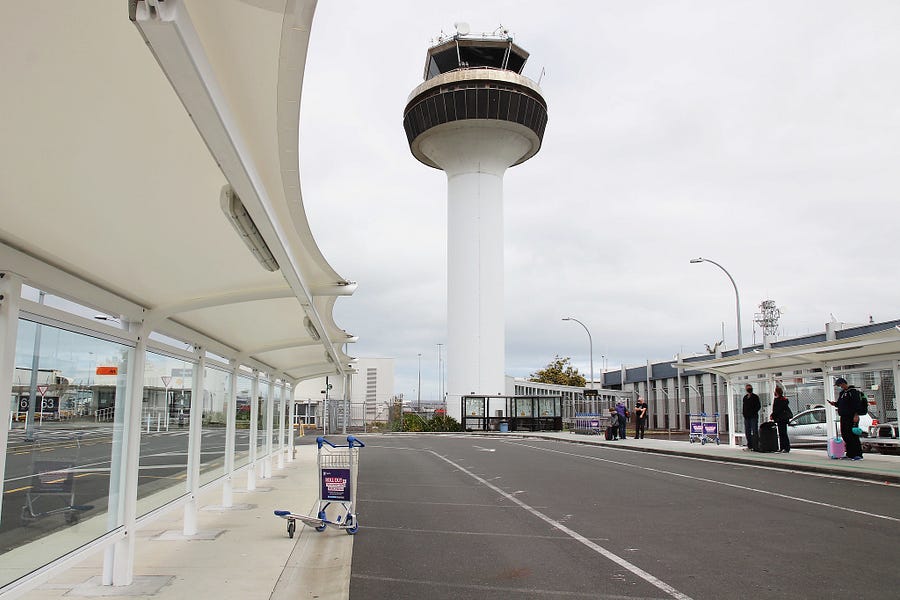 If you want to get a feel for the substance of the article …. here are some of the highlights ….
However, I think it's simpler than that. Wayne Brown is actually simply expressing a view held by most asset owners and investors in Aotearoa-NZ's economy, or as I call it, a housing market with bits tacked on.

That deeply held and and so-far-extremely-profitable investment strategy is that owning shares or investing in businesses in Aotearoa is vastly inferior to owning land, especially leveraged residential land, and even better if it is residential-zoned land that remains banked and undeveloped.

Wayne Brown is being exactly what he is: a property developer who has actually made most of his personal money from land price appreciation on land made valuable through rezoning and paying for water connections at a lower-than-full cost.

Auckland Council's 600,000 ratepayers are paying the equivalent of $500 for each round played by just over 1% of the ratepayers who are members of the 13 clubs

There are a few ways to do this through Government policy, including:

restricting central and local Government investment in infrastructure
reducing council and Government debt to lower interest rates
reducing public spending on public transport infrastructure
ensuring no introduction of capital-gains or new land value taxes
encouraging strong population growth through migration of lower-wage labour

Wayne Brown's plan to 'sell the shares and keep the land' is a perfectly natural instinct for a land banker and is broadly popular with the 60% of households (and more like 80% of local election voters) who own residential land. This policy embeds the settings in our housing market with bits tacked and creates a future where only those with parents able to help with deposits can hope to join or stay in the land-owning class and be able to raise their own families in the land they were born in. The rest can look forward to either a future as permanently poor renters who both pay and serve the land-owning class.

The rest who have a few personal resources, such as education, can only aim to emigrate to join the other one million compatriots who work, live and build their families overseas.

Warnings about "fiscal holes" and "economic and fiscal storms" are things politicians should be careful about. Former UK PM Liz Truss adopted similar 'crisis' language just that a few months ago, triggering a collapse in Government bond prices, which increased UK bond yields and increased British mortgage rates.

Would you be worried if you mortgage was costing you less than 10% of your disposable income to service and your Loan to Value Ratio (LVR) was 16%? No.

Let that sink in. Auckland Council's 600,000 ratepayers are paying the equivalent of $500 for each round played by 6,415 of the courses' members, or just over 1% of ratepayers.

So why doesn't Wayne Brown want to sell the golf courses?

Selling the courses for residential property develop would increase the effective supply of land for housing in Auckland, which would devalue the value of land already held by landowners who vote in council elections.
---
I am now going to share this post and newsletter with a few people 'in the know' and see if I can't get some additional commentary and colour.
Metadata
More to come