Using just one album as an example of the mess that is Apple Music Meta Data ….
Concerto For Group And Orchestra was a 1969 album by Deep Purple. It's always been a favorite - despite not being a big fan of the band itself. I mean - it's not that I don't like them - they just don't feature large in my 'go to' artist list … although Jon Lord … totally different story. A massive fan of Jon Lord.
He features in three lists I have on AlbumWhale
Gateway Drugs … where he is one of five artists that loomed large in my musical preferences in 1969. That's how long I have been aware of his work.
Anyway - back to the plot.
To put the album into context these are the first four albums in the Deep Purple discography ….
July '68 - 'Shades'.
October '68 - 'Taliesyn'.
June '69 - 'Deep Purple'.
December '69 - The 'Concerto'.
In other words in 17 months they released 4 albums - the 4th being this live album with The Royal Philharmonic;
With all the Apple Classical back and forth recently, I was delighted to find that it is indeed in the 'classical' app - which is great because for whatever reason I had never before found it in the main music app …
I have the original vinyl. I have the CD. I have ripped the CD into my iTunes Library, so it never really bothered me …. until now, because in the Classical App when I searched for Deep Purple OR Jon Lord - I found it …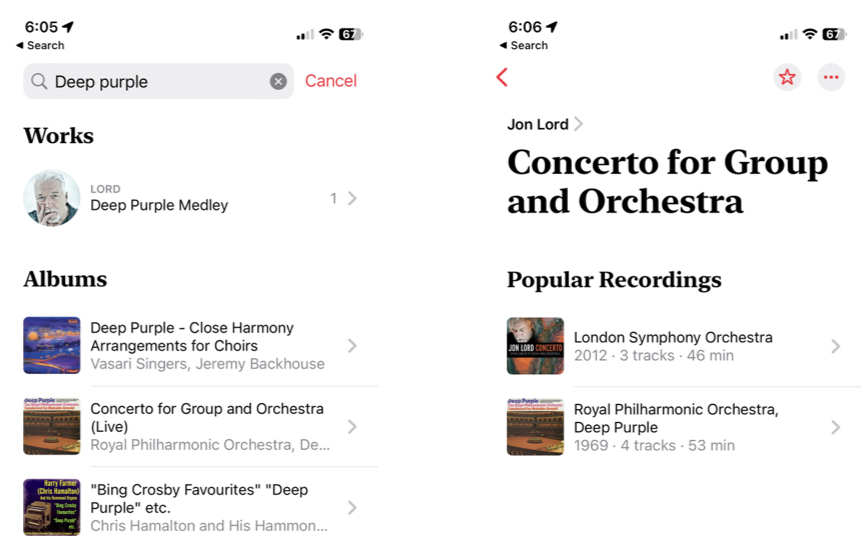 Which got me to wondering - so back to the main app - and a quick search for 'Malcolm Arnold' - and voila - though if you search for 'Malcolm Arnold' in the classical app - who know if it is there … life is too short to wade through the results!
---
Seperately, the recording that Lord did in 2012 is much easier to find - but that is the problem with Apple Music across the board. History and originals tend to be ignored if there is something more recent with the same / similar name.
---
Also interesting that literally in the past two weeks there has been a lot of coverage about a group of artists going out on tour to play this music …
Watch: BRUCE DICKINSON Kicks Off 2023 Tour Performing JON LORD's 'Concerto For Group And Orchestra'.